Our Motor Vehicle Technology programmes offers courses in:
Entry Level – Certificate in Vehicle Technology
Level 1 – Certificate in Vehicle Maintenance
Level 2 – Diploma in Inspections
In all programmes you will learn  the basic principles of motor vehicle maintenance repair and use technology to detect and fix faults in our fully equipped motor vehicle workshops.
Each programme will include training on auto body repair, wheel balancing, servicing and maintenance and inspection.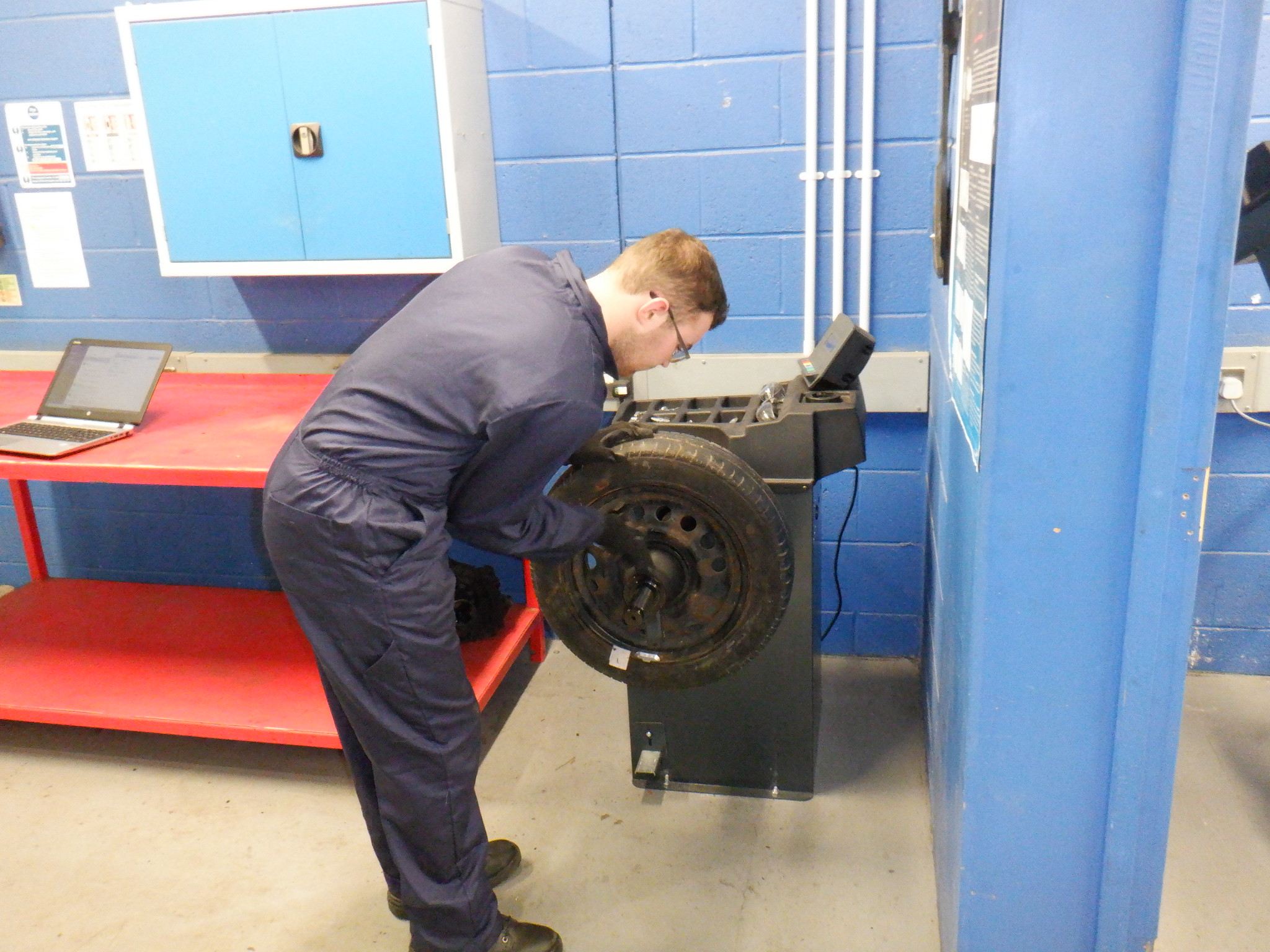 You will learn through hands-on experience in a fully operational motor vehicle workshop with the latest technology and resources with the chance to gain work experience with local employers and visit other further education learning providers.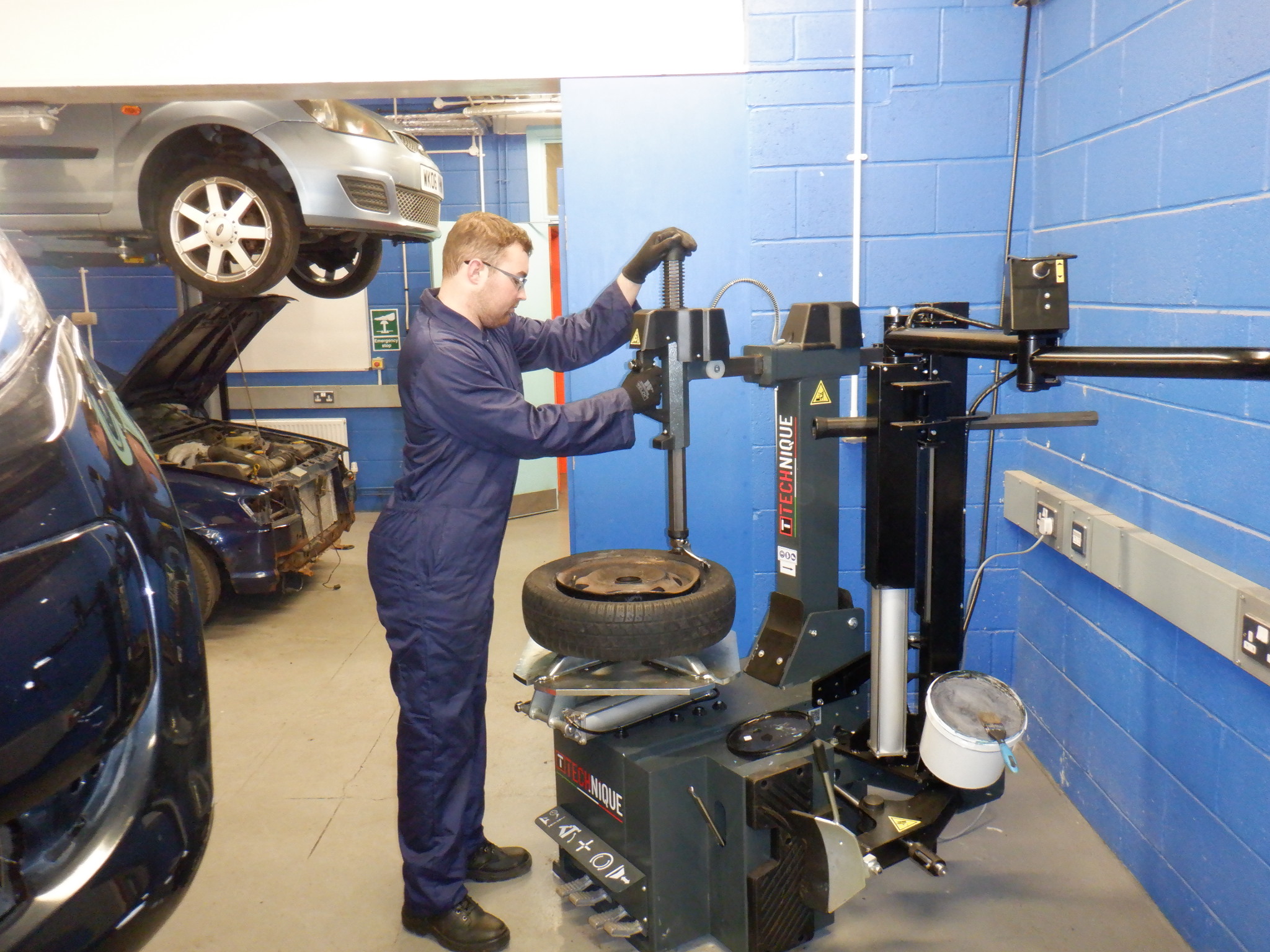 Entry Level Programme
Programme Level: Entry 3
Programme Duration: 1 Year
Course Content:  A minimum of 13 units equating to 330 TQT must be achieved to claim the full qualification
Introduction to Health and Safety in the Workplace
Introduction to Common Tools and Equipment for Vehicle Maintenance and Repair
Introduction to Engine Components and Operation
Introduction to Lubrication System Components and Maintenance
Introduction to Engine Cooling System Components and Maintenance
Introduction to Spark Ignition System Components and Maintenance
Introduction to Spark Ignition Fuel System Components and Maintenance
Introduction to Exhaust System Components and Maintenance
Introduction to Steering System Components and Maintenance
Introduction to Suspension System Components and Maintenance
Introduction to Braking System Components and Maintenance
Introduction to Wheel and Tyre Construction and Maintenance
Introduction to Vehicle Lighting System Components and Maintenance
Introduction to Body Fitting (MET)
Progression:  This qualification will support progress to Level 1 Certificate or Diploma
Programme Level:  Level 1
Programme Duration:  1 Year
Course content:  A minimum of 11 units equating to 320 TQT must be achieved to claim the full qualification
Health and Safety in the Workplace
Tools, Equipment and Consumable Materials for Vehicle Maintenance
Engine Operation and Components
Lubrication System Components and Maintenance
Engine Cooling System Components and Maintenance
Spark Ignition System Components and Maintenance
Spark Ignition Engine Fuel System Components and Maintenance
Exhaust System Components and Maintenance
Steering System Components and Maintenance
Suspension System Components and Maintenance
Braking System Components and Maintenance
Wheel and Tyre Construction and Maintenance
Progression:  This qualification will support progress to Level 2  Inspection Diploma or into sustainable employment
Programme Level:  Level 2 Diploma in Inspections
Programme Duration:  1 Year
Course content:  A minimum of 40 credits must be achieved to claim the full qualification
Knowledge and skills of Health, Safety and Good Housekeeping in the Automotive Environment k
Knowledge and skills of Materials, Fabrication, Tools and Measuring Devices used in the Automotive Environment,
Spark Ignition Engine Systems, Components and Operation
Knowledge and skills of Inspection, Repair and Replacement of Standard Light Vehicle Tyres
Knowledge and skills of Inspection and Replacement of Light Vehicle Exhaust Components
Knowledge and skills of Inspection and Replacement of Light Vehicle Suspension Dampers and Springs
Knowledge and skills of Inspection, Adjustment and Replacement of Light Vehicle Braking Systems and Components
Knowledge and skills in Inspection, Adjustment and Replacement of Light Vehicle Braking Systems and Components
Knowledge and skills of Routine Light Vehicle Maintenance
Progression:  You can progress onto an Apprenticeship programme or directly into employment
Address
Unit 1 & 2, Bonham Drive, Eurolink Business Park, Sittingbourne, ME10 3RY