Preparation For Learning Programmes
What is Foundation Learning?
Our foundation learning programme provides learners working predominantly at entry level or level 1 with high level support needs.  Foundation Learning will allow learners a greater opportunity for progression through personalised programmes with an intended destination.  Most learners will progress to level 2 vocational qualifications, Apprenticeships, GCSEs, independent living and into supported employment.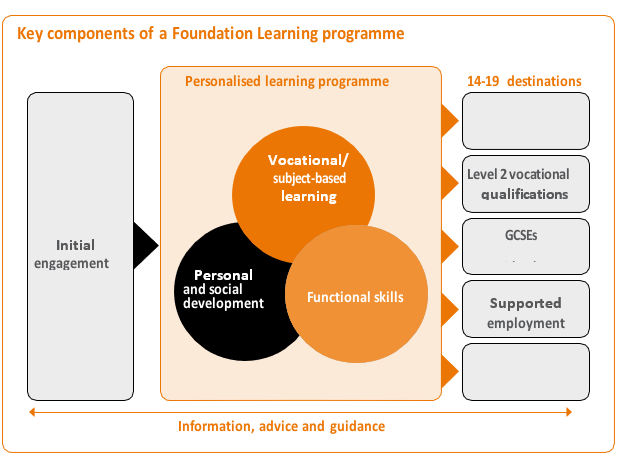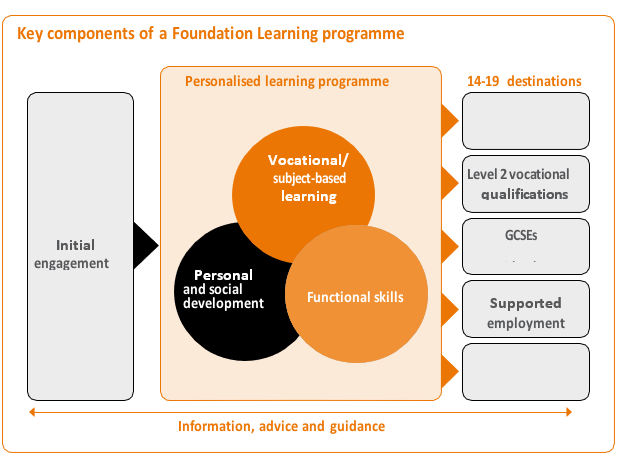 support
All learners are supported allowing the learner to progress to positive outcomes. Qualifications offered within our Foundation Learning programme offer greater flexibility and opportunities for learners to accredit their learning in bite-sized units.
aims
The overarching aims of our Foundation Learning programme at Kite College are:
To support improved engagement, participation and progression through entry level and level 1 towards level 2; or, where appropriate, towards other destinations such as supported employment and independent living
To bring coherence to programmes of study at entry level and level 1 to support progression
To ensure that learners gain a minimum level and range of skills providing a sound foundation for further learning and employment
To support the delivery of quality learning programmes which help to encourage raised aspirations and a culture of lifelong learning.
delivery
Foundation Learning programme will be:
built mainly from appropriate qualifications from entry level and level 1 of the Qualifications and Credit Framework (QCF) and functional skills qualifications
personalised – appropriate to learners' needs and starting points
destination-led – supporting individual progression to level 2 or other appropriate destinations
of flexible content and duration
supported by a 'wrap-around' of support, information and guidance including, where appropriate, initial engagement activities, and initial assessment and ongoing review.
subject or vocational knowledge, skills and understanding
functional skills in English, mathematics and ICT
personal and social development learning
Personal and Social Development Qualifications Personal and Social Development qualifications enable learners to develop their personal and social development skills whilst gaining confidence and self-esteem.
The units included cover areas such as:
Developing own skills and setting goals
Social skills, such as managing relationships and working with others
Knowledge for living in the wider community, such as rights and responsibilities, and community action
Life skills, such as healthy living, budgeting, and preparing for work.
Personal and Social Development qualifications are a perfect way to help learners acquire the skills and confidence they need to move towards more vocational types of learning.
Functional Skills Qualifications
 Functional skills are qualifications in English, maths and ICT that equip learners with the basic practical skills required in everyday life, education and the workplace.
They are stand-alone qualifications in their own right, they are a component of the Entry and Level 1 Programmes (Foundation Learning) suite of qualifications, and the skills are embedded within GCSEs.
Vocational Qualifications.
All vocational qualifications for Entry Level/Level 1 learners ensure learners engage in practical skills allowing learners to become used to working in an industry and will find future progression easier.
Learners can also try different vocational courses as a taster to see what industry may be sorted for them.
Address
Unit 1 & 2, Bonham Drive, Eurolink Business Park, Sittingbourne, ME10 3RY